AC 3000ME
The 1970s – AC 3000ME
Robin Stables and Peter Bohanna were hugely experienced engineers and designers, who had been involved with the Ford GT40 and Lola T70 projects. Later working as freelance designers, they designed the Bohanna-Stables 'Diablo' – a car which was directly influenced by their motorsport experience.
The mid-engined sports car was unveiled at the 1972 Racing Show in London, where it was admired by AC's Keith Judd. After the show, Judd took it to the AC factory in Thames Ditton to show to company chairman, Derek Hurlock, who bought the rights to the car from Bohanna and Stables. He also asked them to work alongside AC's Alan Turner and Bill Wilson to undertake the development work needed to get the car into production. This included fitting a Ford 3-litre V6 engine and a new AC/Hewland-designed gearbox.
A concept car made its debut at Earls Court in 1973 as an AC 3000ME. The press loved it and celebrated its high-quality, glass-fibre body and robust steel perimeter chassis. The styling was lauded, as was its spacious interior and open-gate gear selector. It was a taste of Ferrari from Thames Ditton. The price wasn't confirmed, although AC management hinted that it would be £3000–£4000 and that deliveries would begin in July 1974.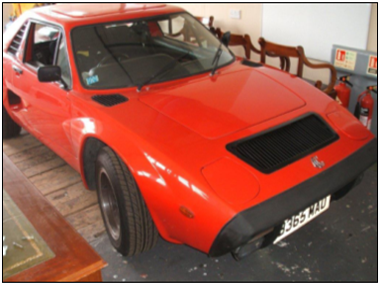 By 1974, the styling was finalised. The shape of the Diablo was retained, with some modifications to the nose, a higher roof line and improved air-intakes, but the advent of Type approval and the associated problems encountered in meeting the regulations put the launch of production cars back to 1978.
A lot has been written about the AC 300ME in the press, but much of it can be summarised by saying that, despite having huge potential and being one of the greatest designs of the '70s, lack of development led to initial customer disappointment. This meant that just 106 cars were produced with only around 70 surviving today. However, we believe the real potential of the car is only just starting to be realized and its time is yet to come. The various specialists are only now beginning to really understand the car and how to overcome its foibles in order to make it into what it always should have been – a truly classic sports car of its time.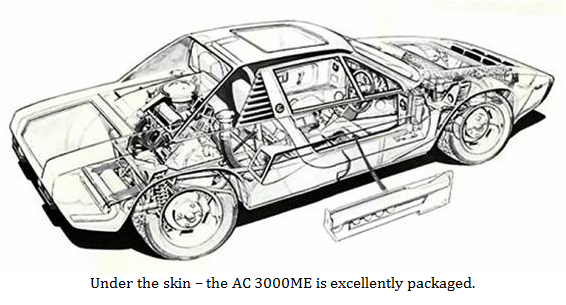 Back