E-Type Jaguar
The 1960s – E-Type Jaguar

This is one of, if not the, design icons of the 1960s. The E-Type became a motoring legend almost overnight and is such a design classic that one is on permanent display at MOMA, the Museum of Modern Art in New York.
Launched at a time when most cars had drum brakes, live rear axles and mediocre performance, the E-Type sprang onto the scene with 150 mph and a sub-7 second 0 to 60 time, monocoque construction, disc brakes, rack-and-pinion steering, independent front and rear suspension, and unrivalled looks.
On its release, Enzo Ferrari called it "The most beautiful car ever made". In 2004, Sports Car International magazine placed the E-Type at number one on their list of Top Sports Cars of the 1960s. In March 2008, the E-Type ranked first in a Daily Telegraph online list of the world's '100 most beautiful cars' of all time.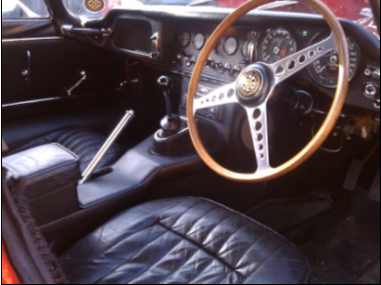 The E-Type in the Carlight Heritage car collection is a 4.2 litre, Series 1 car, of which 5,830 were built between 1965 and 1967. The 4.2 Series 1 is arguably one of the most charismatic models, as the earlier Series 1 models had a smaller, 3.8 litre engine with less torque, whilst later Series models lost some of their charm, as regulation denuded the cockpit of its vintage feel, and the purity of the exterior was modified to comply with ever-changing regulations.
This being a 1967 car, it also has the advantage of the model updates of the time: a fully synchronised transmission, new reclining seats, an alternator in place of the previous generator, an electrical system with negative earth and a more reliable brake servo unit.