Morris Minor
The 1950s – Morris Minor Traveller

The Morris Minor debuted at the Earls Court Motor Show, London on 20 September 1948. Designed under the leadership of designer Alec Issigonis, more than 1.3 million were manufactured between 1948 and 1972 in three series: the MM (1948), the Series II (1952) and, finally, the 1000 series (1956).
Initially available as a two-door saloon and tourer (convertible), the range was expanded to include a four-door saloon in 1950, and a wood-framed estate (the Traveller) from October 1953.
Issigonis's concept was to combine the luxury and convenience of a good motor car at an affordable price. The Minor was a roomy vehicle with excellent cornering and handling characteristics. It became Britain's first car to sell a million units and was exported globally.
Production continued in Birmingham until 1972.
The original Minor MM series was produced from 1948 until 1953. Using a 918cc side-valve, inline-four engine, this little engine pushed the Minor to just 64 mph and delivered 40 miles per gallon.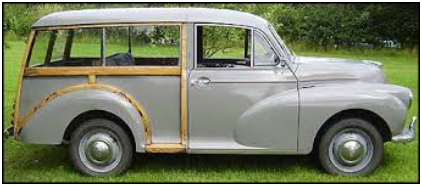 The Series II Morris Minor was introduced to replace the original Minor MM. It had an updated engine – an Austin-designed overhead valve A-series unit.
An estate version was introduced in 1952, known as the Traveller (a Morris naming-tradition for estates, also seen on the Mini), the Traveller featured a structural ash-wood frame for the rear bodywork.
When people talk of a 'Morris Minor' it is often the Minor 1000 that they think of. Introduced in 1956, the Morris Minor 1000 had a larger 948cc engine and the two-piece split windscreen of the earlier cars was replaced with a curved one-piece screen.
The Morris in the Carlight Collection is one of the early Minor 1000 Traveller versions introduced in 1956 with the 948cc engine. It has semaphore 'Trafficators', now an unusual feature on any car, and is a DeLuxe model, these versions having Connolley leather seats, a passenger sun visor, chrome bumper overiders and a heater!